Primary: Legs, Abdominals, Arms (quadrizeps, abdomini, trizeps brachii)
Secondary: Shoulder, Back (deltoideus, erector spinae)
This elemental position is the base for most of the highly-intensive abdominal exercises. It allows many different combinations.
The following figures illustrate the exercise Recrunch Arms Stretched: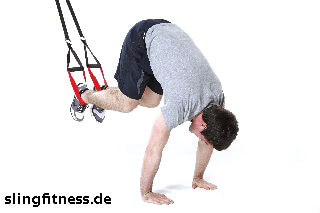 Suspension Training Exercise for Abdominals

Starting/Final position
Depending on the desired intensity the feet or lower legs are hung up in the loops. The body is supported on its hands and kept in prone position. The abdomen is tensed and the buttocks are lightly raised.
Movement
No motion, only strain of the muscles.
Hint:
Avoid a sagging of the hip.